You may or may not have noticed, but there is a new page tab at the top of my blog; clicking on it will take you to the list of
150 themed prompts
. I am challenging myself to create a piece of jewelry for every one of the prompts on the list. It's a huge undertaking! But it will be fun. You are welcome to join me in this challenge. You can choose whether you want to do a piece for each prompt, or maybe only choose twenty-five, or even just ten prompts to create jewelry for. The goal is to get you to think in different creative ways. (If you DO want to participate, send me an email! I'd love to watch your progress and help cheer you on!)
The second prompt on the list is "a flooded field." A week or so ago I posted up some concept sketches for this piece. I've finally finished the earrings and am pleased to share them with you now.
(The picture in the lower right is from a stock image taken by
CRoWNsToCK
on deviantArt. The original image can be found
here
.)
Here is the concept sketch. The finished project didn't turn out too different from the initial design!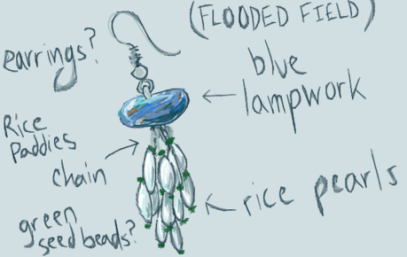 On to #3: "what she keeps in". Happy beading!
----- ----- -----