We are one week closer to our first big craft show in November. This weekend I decided to work on some more displays. I made some jewelry, too, but the focus was on display solutions for the table.
I have a lot of pretty fabric in my stash, but I didn't want to overpower the pieces with fancy designs, so I chose a plain white cotton/polyester mix and then decided to embellish it with a tiny bit of the fancier fabric. My table is going to be decked out in fall colors, greens and yellows, browns and reds. There's an overall floral theme, so I went with a red and brown floral fabric and added some nice little red and gold tassles. I just made a roll and then mostly sewed it up before turning it inside-out and stuffing it. I bent the long seam over and glued it to the bottom so that it will have a slightly flat side to rest on and won't go rolling off the table. The tassles should help with that, too. Pretty AND practical!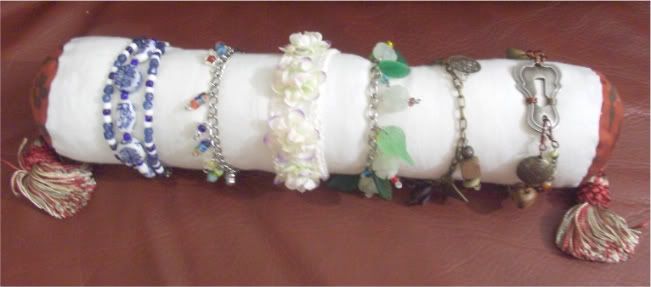 It's not the most professional looking, but it looks crafty and it will do for now. I will probably put the darker colored bracelets on here, but there's a variety in the picture just to give a good idea what it will look like in use.
Hope you all had a productive weekend!
----- ----- -----