Business Cards. Some folks might not think these are a must, but I am definitely a fan. When etsy shop owners send me their business cards with my orders, I keep them in a book with notes so that I can remember what I liked and where to find what, should I want any more of a particular thing. Contact information is never terrible, either, and I find myself looking up websites and emails of folks I've met at bead shows and on etsy. Not only that, but as a jewelry maker I've found that giving out my business cards has made word-of-mouth recommendations much easier and my customers have used my card to get in contact with me for things like jewelry repair and questions about metal, etc., especially when they've purchased things from me as gifts for others. You can get basic business cards relatively cheap, or you can have a graphics designer make some up for you and have them printed. Either way you go about it, they are definitely a worthwhile resource to have on hand.
When I go to craft shows, I like to grab the business card of people whose work I like. Later I look up their website and blog to see what else they do. So, naturally, I want to offer my business cards on my table at the craft show in November.
But I didn't want to have a generic business card holder. I wanted something that would go with the rest of my entourage, something charming and accessible. I decided to go looking around.
What I found and where I found it was unexpected! Our local party store had these little sugar-packet holders for banquet tables. They were just the right size and rather unremarkable---perfect for customizing! So I bought one and brought it home and went to work on it. I used scrapbook paper, decorative note cards and envelopes, and stationary stickers. But look how well it goes with the designs on my business cards!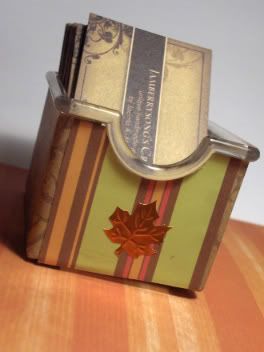 Speaking of which, I ordered these from Vistaprint. They're all right, but as soon as they are gone, I am totally going to get new ones elsewhere. It'd be nice to have some from someone like my friend Tara, with more customized designs and up-to-date info like blogger link and such. I do so hate to waste paper, though, so I'm stuck with these for a while.
When they are gone, I'm totally going to keep and redecorate my card holder. :D
----- ----- -----