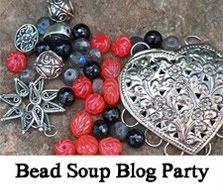 (Say that five times fast!)
Lori Anderson
is holding a
Bead Soup Blog Party
, where a big whole bunch of us signed up to swap beads and challenge ourselves to create a piece from the mix we receive from our partners. Sounds like a blast, doesn't it? It IS!
Anyway, Saturday I received my packet of beads from my partner. I will share that with you, but first... Let me tell you about my partner!
Her name is Marian and she has a lovely blog,
M's Place
, where she posts her work. She is exceedingly talented and outrageously patient! I say this because she
hand-makes these pendants
out of polymer clay, and they are incredibly and minutely detailed. She also makes polymer clay beads and they are somehow most perfectly round. I don't know how she does it! She also
paints
and shares her thoughts. Very lovely little blog, and I'm glad we got to meet each other through this exchange. :D
So Saturday I opened up my mail to see this:
An unassuming little treasure box with a greeting card, M for Marian. :) And...
Oh, my goodness.
One magnificent pendant, some polymer clay rounds, and some of the lightest pink glass pearls I've ever seen. I must work hard to be able to do these pieces justice, that's for sure. It is an honor to work with these! She didn't have to send me such a fancy one; it's so flattering!
But there was more!!! *faint*
Oh my gosh! Oh my gosh! She made me an owl. :3
I actually went, "Squee!" when I saw these. I LOVE them!!
Thank you, thank you, Marian!
The reveal date isn't until Saturday, February 26th. I have plenty of time to
think of something worthy to do with these wonderful beads. Can't wait!
Thank you, Lori, for holding this great event! :D
----- ----- -----