Do you ever just get the urge to make something ugly? Or ridiculous?
Every once in a while, I just get this urge to satisfy my creative leanings by making something that I am dead sure nobody would ever want to buy. XD
I think it's healthy to answer such urges! It keeps things moving, the mind going in new and creative directions. It also offers opportunity to practice techniques.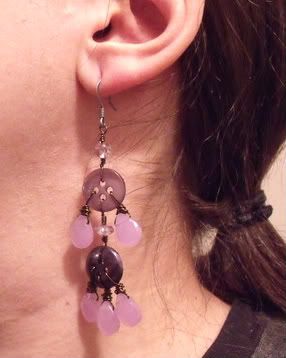 So, earlier this week I was dropping some old clothes and a piece of furniture off at the local Salvation Army. I always check the jewelry case because you never know what might be in there. I've seen some gorgeous vintage brooches and necklaces there before. Anyway, there was this little elastic band full of very pretty buttons! It was only $0.99, so I snagged it. Then we had some errands to run at Wal-Mart, and I like to browse the craft section. My Wal-Mart has a little box full of little bead packets from Cousin Corporation for $1 each, and I was surprised to find some pretty purple briolettes in there. Just for giggles, I snagged those, too.
Then I made these. XD They're pretty endearingly hideous, and I will probably dismantle them later, but they were fun to make and I got to practice wire-wrapping, so it wasn't all bad.
Now, for the serious pretties. I've sold a handful of orders since New Years, so I figured I would reward myself by ordering some more beads to play with. Etsy is a great website for browsing all sorts of beautiful supplies, so I picked up the following:
I've been meaning to get my paws on some of those lovely Vintaj bead caps, so I was excited to find them! The Czech glass nautilus beads are to die for, and of course I adore flowery filigree. :3
And of course, these are so modest compared to Lorelei's
recent loot share
. So very drool-worthy!!
----- ----- -----