Yesterday's show turned out to be a little disappointing. The location was great, the price was great, the light was great, the weather was great, the hostess was great... but there were no customers. I shouldn't say "no," but there were only four customers over the six hours that we were there. The other three jewelry makers bailed on us, so there was only myself and one other person (she was also great!). All in all, extremely quiet.
On the other hand! I did make three awesome new friends who I will likely see again. The gallery owner commissioned me to redo one of her necklaces and offered me a place in the next show for free (it will be more busy for several reasons that I won't babble about right now) because she felt so bad about not having any customers. We got to share knowledge and bounce ideas off of each other and we learned a lot about both our craft and our displays.
As much as customers would have been nice, the important thing was the experience, I think. My displays have become much better, but I did learn a few lessons.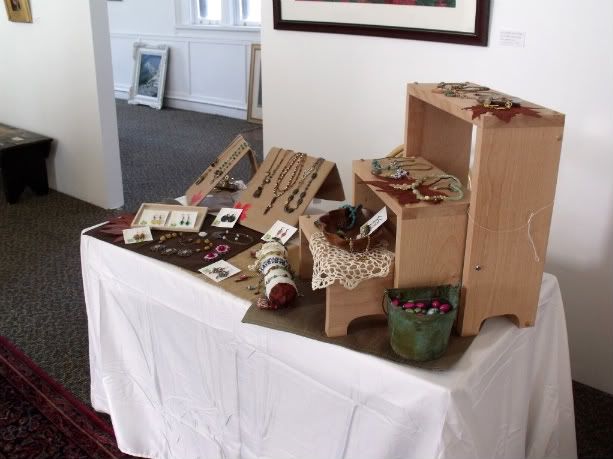 1. My own personal table was far too small to accommodate my inventory. I put out about a fraction of things, so the few customers we did have pretty much swooped by and didn't linger.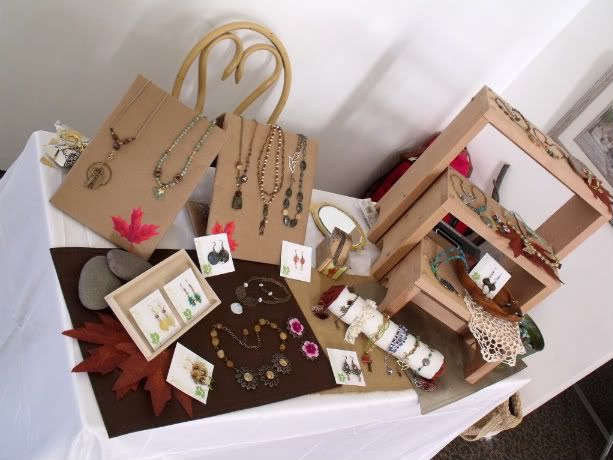 2. Make sure I have the time right! I skimped on sleep the night before, and when I arrived at the gallery I was two hours early because I hadn't thought to look at the flier the night before and couldn't call the gallery owner because I had neglected to put her number into my phone or at least make sure I had it. Next time, I will make sure I've got these things down.
3. While my displays were awesome, I brought too many of them. This is related to lesson number one, but more specifically, I learned to set everything up before the show so that I know how it will all fit and sit on the table. I learned this from
Stacie Louise's blog
but neglected to do it. What's wrong with me?!?! XD I definitely regretted it and next time will certainly make sure to try it.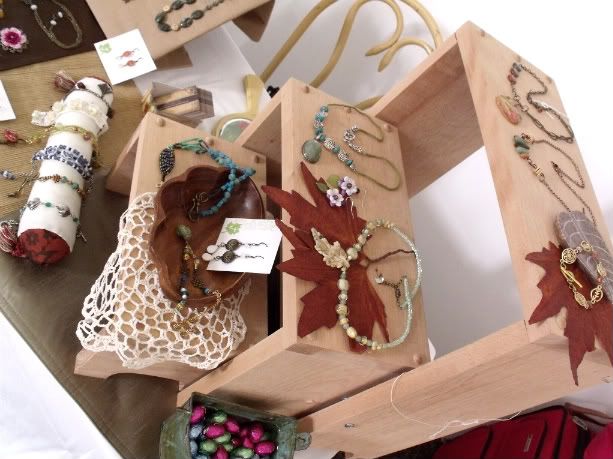 4. Bring less STUFF. I had a whole suitcase of beading materials and had planned to work at my table. SURPRISE! I didn't have any room for anything! On the plus side, though, I helped my jewelry-making neighbor by lending her some of my tools and had thought to bring a handful of magazines as conversation starters, which worked out excellently. However, next time I will bring only a small travel kit and an extra table. I will also obtain a folding chair for myself. The gallery owner told us we had to supply our own tables, and it was only at the last minute that I thought perhaps there wouldn't be chairs for us there, either. I grabbed one of our dining room chairs, but it took up so much room in the car and was really clunky to transport. Next time, folding chair.
5. Bedsheets make poor tablecloths. To be fair, this wasn't entirely my fault; we were sending some stuff home and that included a huge bag of fabric. I decided that I wouldn't need my tablecloths any time soon (this was back during the winter), so I stuffed them in there, too. Oh, dear! Wait... I guess it was entirely my fault. Ah, well. I went out to buy more tablecloths, but all the stores that were open at the ridiculous hour I was out and about only had the nasty vinyl ones. Hence my purchasing bedsheets. In actuality, they weren't bad at all. But I would have preferred to wash and/or iron them first. I didn't get a chance, so my table looked a little terrible down the front.
I really like my displays. I made those brown necklace holders out of cardboard and packaging paper. On the backs are recycled twist-ties to hold the necklaces in place. I really like these a lot, but I will need to think up a better way to have them on the table. If this were an outdoor show, they totally would have blown away. I'm thinking maybe using some more of those lake stones to ballast them a bit would work, but I will have to do some experiments to see for sure. That wooden step stool was for sale at a place called Antique World, in one of the vendors' booths. It is not an antique. However, it IS handmade and sturdy (hardwood) and it totally folds up in a clever way, which makes it pretty easy to transport. It's what I got myself for my birthday this year and I LOVE it! It will NOT move, come windstorm or earthquake. I made the bracelet holder (you may remember that) and that bucket I've filled with chocolate eggs came from JoAnn Fabric. It's great because it has one flat side with two holes in it. Guess what that's going to be used for? That's right! Photographing earrings. :D
Anyway, so even though the show didn't turn out anything like we all had expected, it was still a fantastic time. I'm glad to have some new friends and will be tweaking my displays for the next show.
What have you all been up to this weekend?
----- ----- -----